Hello! Thank you for taking the time to visit my page.
As a speaker, writer, and leadership mentor, I am devoted to offering words that address hearts and heads. Feeling truth is lovely. Committing to truth is life-changing. 
Less than trendy spiritual formation themes captivate me like what grows in spiritual winters, redefining influence, character studies of unpopular souls like Judas and Jezebel, the unglorious guts of leadership, the collision of sincere faith and unexplainable pain, navigating through doubt and faith crises, reframing failure, what on earth we mean by 'a healthy soul,' and moment-by-moment (as opposed to event-inspired) intimacy with God.
People liken my spoken and written messages to welcome surgeries. (And that is nice.)
I would love to stay connected if you have the space to sign up for my updates. I blog close to weekly, send updates randomly, and tweet daily. Yes, it could be more. It could always be more. Thankfully, more has never been a synonym for contentment. So I am gratefully celebrating less…for now.
Peace, Alicia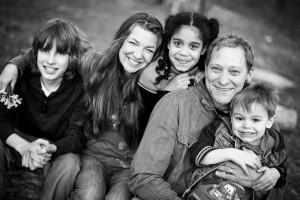 Q&A: How on earth is your name pronounced?
Alicia (uh-lee-shuh)
Britt (brit)
Chole (show-lee)
Q&A: Where are you from?
From is a difficult question. I was born in Las Vegas and my family moved annually, so early on "home" always brought to mind something more relational than locational. Texas wins the most-years-in-one-state-before-Alicia-graduated-from-college award (6 years) and we have lived in Missouri since 1996. What is fun (and perhaps of more than passing interest to any sociologists and psychologists out there) is that through no intentional plan of my own, my three kiddos have only known one home their entire lives.
Q&A: What are your most treasured experiences?
When Jesus interrupted my Atheistic existence

Walking down the aisle to meet Barry

Backpacking through China

Personal prayer retreats in the desert of Arizona

Every single moment of my children's lives
Q&A: What is your educational background?
B.A., Plan II—Pre-Law, University of Texas, Austin (1987)

M.A., Education, University of Texas, Austin (1994)

D.Min., Leadership and Spiritual Formation, George Fox Evangelical Seminary (2015)
Q&A: Can you tell us about your family?
Gladly! I am the only child of two pretty spectacular parents. My hero/father passed away in 2001. Dad gave me the gift of always being a safe place to ask big questions and dream big dreams. Mom lives near us and continues to be the most generous person I have ever known. Barry—truly an incredible man with more character than I will ever have—is my treasured husband, co-worker, mentor, and dearest friend. We married on June 23rd, 1990. God has graced our home with three (AMAZING) children through the miracle of adoption. As a family our mission statement is: "God Himself—He is our treasure. His global cause—it is our own. In truth and love we will endeavor to call all nations to His throne."
Q&A: Share with us some of your favorites:
Favorite phrase: I have a question (because I always have a question)

Favorite food: Indian vegetarian, Shanghai dumplings (preferably in Shanghai), Mom's tacos (heavenly), and pretty much any food that's really spicy (I can eat anything if you give me a jalapeno. Well, except for tofu. I've tried…but nothing has helped tofu.)
Q&A: Share with us some of your favorite quotes.
Oswald Chambers: "My goal is God Himself, not joy nor peace nor even blessing, but Himself, my God."

A.W. Tozer: "The essence of idolatry is the entertainment of thoughts about God that are unworthy of Him."

Henri Nouwen: "Did growing older bring me closer to Jesus?"

Basilea Schlink: "Jesus and the penitent sinner belong together."