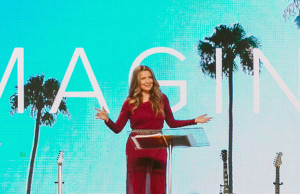 To borrow and personalize the oft-quoted words of Eric Liddell: "When I speak I feel God's pleasure." Joy is the word I'd use to describe studying, crafting, and offering sermons and teachings to others.
I suppose you are wondering what to expect if you invite me to speak. Well, I'm told that the messages God entrusts to me are surprisingly surgical. One pastor summed up the comments of many when he said, "My first thought was, 'She has such a sweet spirit.' My second thought was, 'I think she just removed my appendix!"
My hope is that people's heads and hearts are spoken to equally, that they sense and are invited more deeply into God's love, and they leave with gratitude for the surgical authority of God's Word.
If you would like to consider partnering together for an in-person or on-line event, please call our team at (417) 425-7775 or fill out the speaking inquiry form and we will be in touch.
Commonly Requested Speaking Themes:
The Strength of Decrease
1-4 sessions: based upon my newest book, 40 Days of Decrease
A Healthy Soul
1-6 sessions: holy habits of a healthy soul
A Leader's Legacy
1-4 sessions: Leading from the inside out
Influence Redefined
3-4 sessions: includes character studies of Deborah, Jezebel, Judas and Jesus
Are we there yet?
2-4 sessions based on Anonymous: Jesus' hidden years and yours
Know Doubt
1-2 sessions on the subject of processing doubt and crises of faith
Life in the Plural
1-4 sessions on sustainable intimacy with God
Real Life, Real Pain, and a Real God
3-4 sessions on healing and hope in the midst of spiritual disappointment
Destiny-Shaping Questions
1-4 sessions of a spiritual formation emphasis that is relaxed, conversational, occasionally humorous, and consistently piercing
Purposeful Proximity: Mentoring Made Practical
2-5 sessions on principles and practices of healthy spiritual companionship from the example of Jesus
Form and Substance
1 session which unveils a master saboteur of unity, effective ministry, and integrity: a critical message for churches in transition
Reflections of a Former Atheist
1 session on my journey from sincere atheism to faith in Jesus